GER3 has continued to scale up our efforts responding to hurricane Dorian with recovery programs in Grand Bahama. The focus of our work is currently on two projects:
1) Restoring and reopening seven schools (for approximately 6,000 students) in Freeport and the surrounding areas in partnership with UNICEF, the Ministry of Education, and the District Superintendent.
2) Rehabiliation of twenty (20) homes of highly vulnerable persons so they can retrun to their homes as quickly as possible. This work is made possible through a new grant from the Center for Disaster Philanthropy (CDP).
GER3 has been able to accomplish so much in a short period of time thanks to our dedicated Global Response Team (GRT) effort, including our dedicated recovery crews that are working hard every day to help those affected in Grand Bahama. As with all of our programs, we are guided by community needs and focused on finding ways to recycle and reuse materials while we build back better.
GER3's recovery work in public schools in Grand Bahama has continued to scale up significantly through our partnership with UNICEF, who we had an opportunity to host along with a USAID colleague this week to monitor progress. Working with the local communities, partner organizations and educational leaders, we are carrying out site by site assessments of targeted schools. Damage and debris from the hurricane have impacted the schools at varying levels and we are committed to tailoring our approach to meet the local needs and priorities.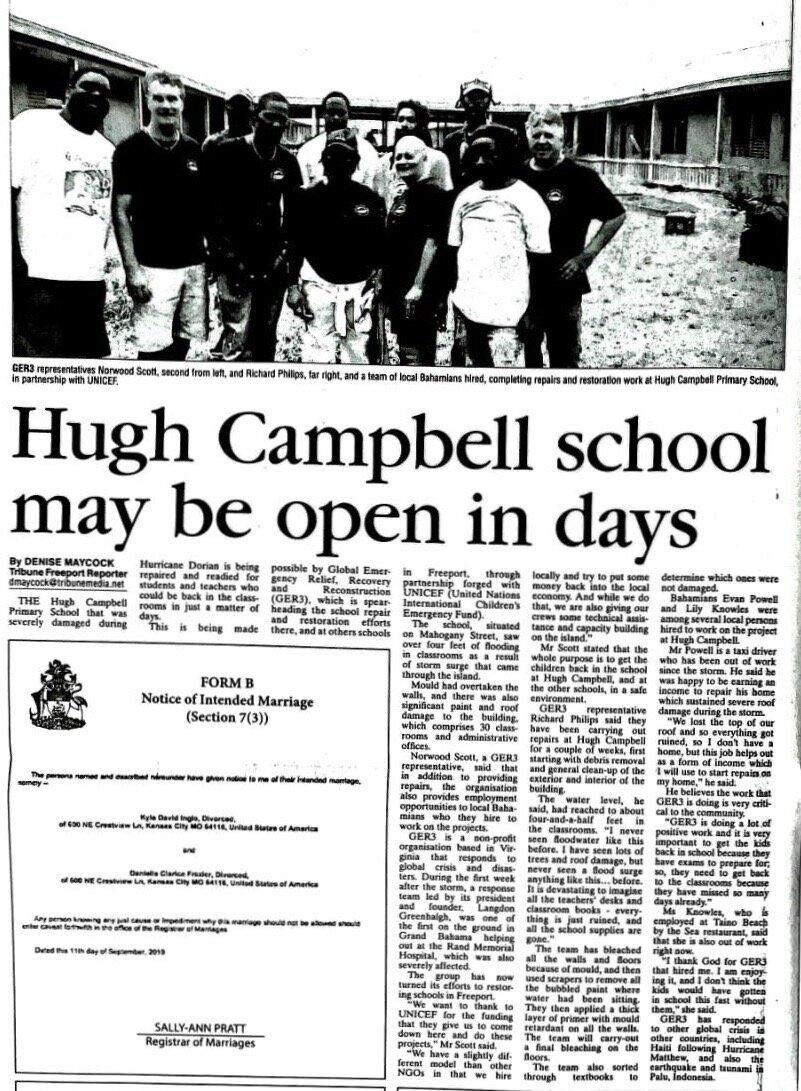 GER3 featured in local newspaper:
The Grand Bahama District Superintendent is working closely with our GER 3 team to target our programs in the most impactful way, supporting 6,000 local public school students to return to school as soon as possible. The Superindenant recently toured the various school sites with us and shared his satisfaction with the work and training carried out thus far. We are all working hard to help the schools reopen soon and ensure children are safely back in classrooms learning effectively.
Pictured above a successfully renovated classroom and the GER3 Operations Coordinator discussing plans with Ivan Butler (District Superintendent) and a remediation specialist.
Thanks to a grant from CDP, our teams are also laying the groundwork for helping vulnerable Bahamians return to their homes with critical support from CDP. GER3's housing recovery work is focusing on the eastern coast of Grand Bahama where hurricane damage was devastating. This week, GER3 is carrying out community and household-level assessments to identify which homes will be targeted for debris removal and repair. Where possible, our recovery teams will aim to recycle and reuse materials, helping to ensure a more environmentally-focused response effort.
Our GRT now includes three international staff, Field Program Coordinator, Operations Coordinator, and Recovery Planning and Systems Coordinator, and 13 local Bahamian staff. Our aim is to expand with an additional Operations Coordinator and local recovery teams in the coming week to tackle the significant work ahead in the recovery process.